The Faisal Mosque is the largest mosque in Pakistan, located in the national capital city of Islamabad and is conceived as the National Mosque of Pakistan. It is named after the late King Faisal bin Abdul-Aziz of Saudi Arabia, who supported and financed the project. The impetus for the mosque began in 1966 when the late King Faisal bin Abdul-Aziz supported the initiative of the Pakistani Government to build a national mosque in Islamabad during an official visit to Pakistan.
In 1969, an international competition was held in which architects from 17 countries submitted 43 proposals and after four days of deliberation, Turkish architect Vedat Dalokay's design was chosen. Construction of the mosque began in 1976 and was completed in 1986. The Faisal Mosque was the largest mosque in the world until 1993, when it was overtaken in size by the completion of the Hassan II Mosque in Casablanca, Morocco. Subsequent expansions of the Masjid al-Haram (Grand Mosque) of Mecca and the Al-Masjid al-Nabawi (Prophet's Mosque) in Medina during the 1990s relegated Faisal Mosque to fourth place in terms of size. The Mosque has a covered area of 5,000 m2 and can accommodate 10,000 worshipers in its main prayer hall, 24,000 in its porticoes, 40,000 in its courtyard, and another 200,000 in its adjoining grounds.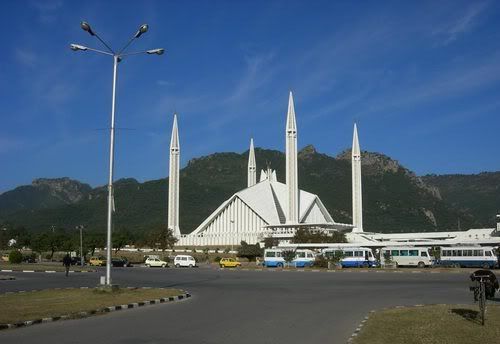 The Faisal Mosque is the work of famous Turkish architect, Vedat Dalokay who won the Aga Khan Architectural Award with this project. The mosque's relatively unusual design fuses contemporary lines with the more traditional look of an Arab Bedouin's tent, with its large triangular prayer hall and four minarets. However, unlike traditional masjid design, it lacks a dome. The minarets borrow their design from Turkish tradition and are thin and pencil like. The interior of this prayer hall holds a very large chandelier and its walls are decorated with mosaics and calligraphy by the famous Pakistani artist Sadequain. The mosaic pattern adorns the west wall, and has the kalimah written in early Kufic script, repeated in mirror image pattern. The mosque's architecture is a departure from the long history of South Asian Islamic architecture. It is one of the most outstanding and modern Islamic architecture examples in the world.